1. Because well, it's too late for that.
2. We are all probably too busy fangirling over this already
3. So I'm pretty damn sure everyone knows what happened.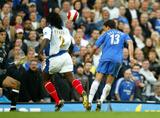 Guh.HESSOPRETTY.
&Micha got booked for the over celebration too apparently. xD Meh so bloody worth getting booked for. xD It's like the Schweini getting booked against Portugal for the illegal goal celebration. xD <3
And damn you Micha. You've totally now messed up my picture uploading schedule! Why did you have to score? ;]
But for the official result:
Chelsea 2
- 1 Portsmouth
55' A. Shevchenko
57' M. Ballack
69' M. Benjani
so I hear..
Micha had another shot on target but was saved. Lala. <3
YAYMICHA! ♥ *Fangirls like mad*
Also I officially declare the 21st of October as The Dark OTP day. *nod* You got a problem with that? Too bad. ;]
Tags: chelsea, picspam, premiership, results
Current Mood:
ecstatic